test for hand held machines
Type:
Stone Hand Held Machines Hand Held Stone Cutter
Machinery Function Features:
Christian Rohr Steinbearbeitungsmaschinen
info@steinbearbeitungsmaschinen.de
https://stoneworkingmachinery.com/933-1-Carl-Meyer-Modell-SVN80.html

Christian Rohr

Germany
Christian Rohr Steinbearbeitungsmaschinen
Contact Supplier
MASONRY BLOCK SAW – BSC
Type:
Stone Hand Held Machines Hand Held Stone Cutter
Usage:
Granite, Marble, Limestone, Slate, Basalt, Quartzite, Sandstone, Travertine
Machinery Function Features:
Masonry block saws ideal for building sites. Solid, versatile and precise machines, they are suitable for cutting blocks of concrete, stone, bricks and materials in Poroton, as well as other materials for the construction sector.
A system of locking/unlocking the motor arm permits adjustment of the cutting depth.
Cuts are carried out in two ways: with the head fixed and advancement of the truck, or with manual oscillation in ascent and descent of the cutting head.
Designed to function with blades from Ø550 to Ø900 mm on the basis of the models.
Available in single or three-phase version. Beltdrive transmission system.
Equipped with a cooling system for the cutting disc: a pump for the circulation of water, positioned within the collection tank, allows water to flow onto the disc for cooling.
The tank is emptied by opening the draining cap. Detachable legs to facilitate transport.
ACCESSORIES SUPPLIED: instruction manual, set of wrenches.
OPTIONALS: diamond blades, precision laser, wheel kit for transport.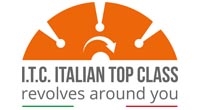 ITC

Italy
ITC Italian Top Class GS S.r.l.
Contact Supplier